Page 2 of 2 •

1, 2

Conference proceedings vs. paper...

The Tau Ceti section is quite interesting. 14, 35, 300, 600 days? The first two correspond to "b" and "c", the 300 and 600 days do not correspond to any of the claimed planets.
A dynamical study on the habitability of terrestrial exoplanets II: The super Earth HD 40307 g
http://arxiv.org/abs/1403.5868
HARPS and it Kepler results indicate that half of solar-type stars host planets with periods P<100 d and masses M < 30 M_E. These super Earth systems are compact and dynamically cold. Here we investigate the stability of the super Earth system around the K-dwarf HD40307. It could host up to six planets, with one in the habitable zone. We analyse the system's stability using numerical simulations from initial conditions within the observational uncertainties. The most stable solution deviates 3.1 sigma from the published value, with planets e and f not in resonance and planets b and c apsidally aligned. We study the habitability of the outer planet through the yearly-averaged insolation and black-body temperature at the pole. Both undergo large variations because of its high eccentricity and are much more intense than on Earth. The insolation variations are precession dominated with periods of 40 kyr and 102 kyr for precession and obliquity if the rotation period is 3 d. A rotation period of about 1.5 d could cause extreme obliquity variations because of capture in a Cassini state. For faster rotation rates the periods converge to 10 kyr and 20 kyr. The large uncertainty in the precession period does not change the overall outcome.

_________________
Caps Lock: Cruise control for 'Cool'!
Some of the presentations from the
Rencontres du Vietnam
conference are up. I'm going through them now. The first result I see is that with 110 new RV measurements, the presence of the 35, 52 and 192 day planets are not confirmed. They do find a fourth planet and a fifth promising signal at 28.7 d, which of course doesn't correspond to any of the three new planets in
Tuomi
's paper.

_________________
Caps Lock: Cruise control for 'Cool'!
If I'm reading it (
this
) right, the 52-day planet is confirmed. Looking at the page titled "HD40307: Different analysis & results", the 200 d and 28.7 d peaks are present in both periodograms, but their strengths are switched; they might aliases, which is plausible because the 28.7 day peak is at expectations for a monthly alias. So I think it's a bit quick to call on g… I can't say anything on e without a proper look at the residuals after fitting g/whatever because e has the smallest semi-amplitude of the system.
Is the system from the page titled "A few stars are extremely stable" new? I don't recognise it, and for all of my work with the archive I can't think of what star it could be -
very
 few stars have been observed with such a high cadence.
Neptune-Mass





Number of posts

: 283


Location

: g2 17.∞ 997 t


Registration date :

2013-02-14



I don't recognise it either.

_________________
Caps Lock: Cruise control for 'Cool'!
Inner one looks like it could be GJ 3634b. Would explain why the 35.6-day one is highlighted, as it would be in the HZ.

As regards HD 40307g, that one was always fairly uncertain.
After a little archive-fu, I have identified the system: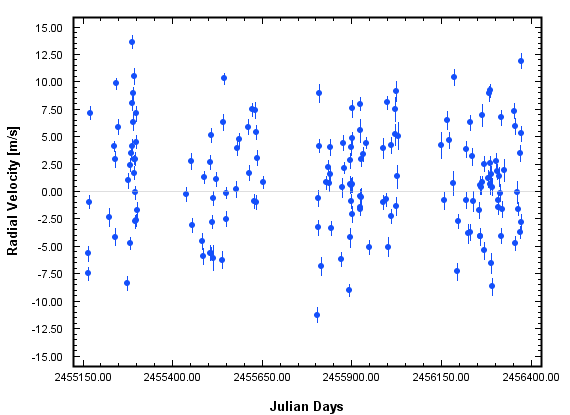 Though I admit it is probably not desired by the HARPS team, this
is
 publicly available data, so I'll name the star: HD 32564 (G6V).
The inner system is very compact (orbital spacings of ~0.05 AU), so their eccentricities cannot be very large without crossing orbits. P
e
/P
d
 and P
f
/P
e
 ≈ 1.5, indicating that they may be resonant. The outer planet converges on a very high eccentricity, but I'm not convinced it is real; e = 0 implies a minimum mass of about 14 M
⊕
.
Anyway, that's enough of that derail. This thread's for HD 40307!
Neptune-Mass





Number of posts

: 283


Location

: g2 17.∞ 997 t


Registration date :

2013-02-14



Maybe it's my bad english but I'm lost... Why are we talking about HD 32564?
Jovian





Number of posts

: 533


Age

: 27


Location

: Paris, France


Registration date :

2008-06-16




_________________
Caps Lock: Cruise control for 'Cool'!
How many planets is there? 


Jovian





Number of posts

: 557


Age

: 40


Location

: Baile Atha Cliath


Registration date :

2010-07-31



Played with this one in Systemic using the public data from the HARPS archive. It does rather look like the "e" and "g" planets aren't there: after fitting the first three planets and the long term trend (for a sinusoid, the period comes out as ~4000 days, probably related to the stellar magnetic cycle), the next planet is the 51-day one ("f") and then the 28.7-day one, which when using the Keplerian model results in a high eccentricity that crosses the other planetary orbits.

But would probably need to do some proper modelling of the activity effects to go further.
Page 2 of 2 •

1, 2

---
Permissions in this forum:
You
cannot
reply to topics in this forum