Page 19 of 19 •

1 ... 11 ... 17, 18, 19
Additional companions to Kepler-448 and Kepler-693 from TTV. The latter turns out hosting both a Hot Jupiter both a close, eccentric stellar companion (m
B
= 0.143 M
Sol
a = 2.8 or 5.8 AUs e =0.47), so that Kepler-693 b becomes
Kepler-693 Ab
.
Eccentric Companions to Kepler-448b and Kepler-693b: Clues to the Formation of Warm Jupiters
I report the discovery of non-transiting close companions to two transiting warm Jupiters (WJs), Kepler-448/KOI-12b (orbital period P=17.9days, radius Rp=1.23+0.06−0.05RJup) and Kepler-693/KOI-824b (P=15.4days, Rp=0.91±0.05RJup), via dynamical modeling of their transit timing and duration variations (TTVs and TDVs). The companions have masses of 22+7−5MJup (Kepler-448c) and 150+60−40MJup (Kepler-693c), and both are on eccentric orbits (e=0.65+0.13−0.09 for Kepler-448c and e=0.47+0.11−0.06 for Kepler-693c) with periastron distances of 1.5au. Moderate eccentricities are detected for the inner orbits as well (e=0.34+0.08−0.07 for Kepler-448b and e=0.2+0.2−0.1 for Kepler-693b). In the Kepler-693 system, a large mutual inclination between the inner and outer orbits (53+7−9deg or 134+11−10deg) is also revealed by the TDVs. This is likely to induce a secular oscillation of the inner WJ's eccentricity that brings its periastron close enough to the host star for tidal star-planet interactions to be significant. In the Kepler-448 system, the mutual inclination is weakly constrained and such an eccentricity oscillation is possible for a fraction of the solutions. Thus these WJs may be undergoing tidal migration to become hot Jupiters (HJs), although the migration via this process from beyond the snow line is disfavored by the close-in and massive nature of the companions. This may indicate that WJs can be formed in situ and could even evolve into HJs via high-eccentricity migration inside the snow line.
dM star





Number of posts

: 1512


Location

: Tau Ceti g - Mid Latitudes


Registration date :

2008-06-02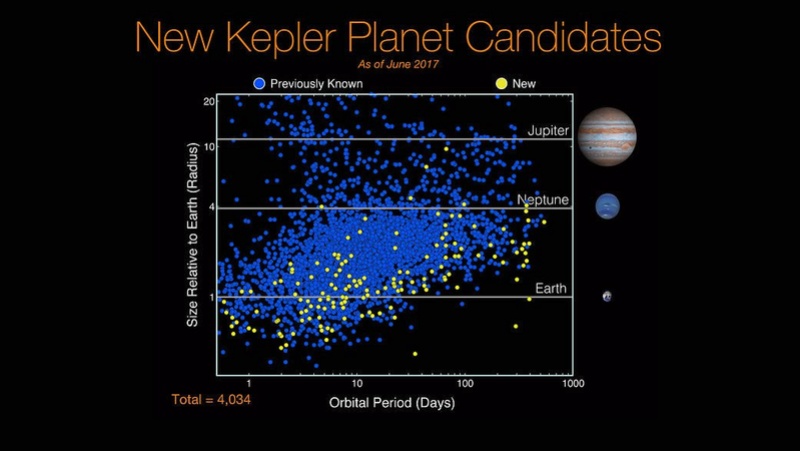 THe final Kepler catalog 2017
SuperEarth





Number of posts

: 238


Registration date :

2009-11-14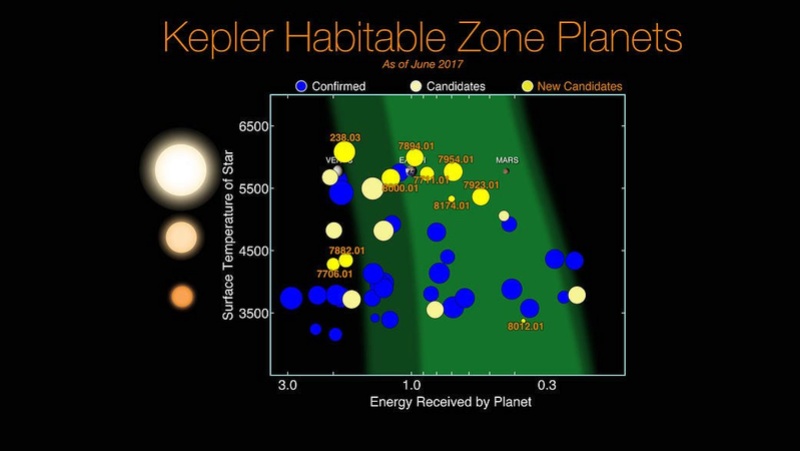 The New planets candidates in the HZ in the final catalog KOI-8012.01 seems similar in someway with TRAPPIST-1 planets.
SuperEarth





Number of posts

: 238


Registration date :

2009-11-14



NASA press release and briefing materials :

https://www.nasa.gov/press-release/nasa-releases-kepler-survey-catalog-with-hundreds-of-new-planet-candidates


https://www.nasa.gov/ames/kepler/briefing-materials-final-kepler-survey-catalog-of-planet-candidates-in-the-cygnus-field
Jovian





Number of posts

: 526


Location

: France


Registration date :

2011-09-09



https://www.nasa.gov/feature/jpl/hidden-stars-may-make-planets-appear-smaller

Hidden Stars May Make Planets Appear Smaller

« …In the new study, Furlan and Howell focused on 50 planets in the Kepler observatory's field of view whose masses and radii were previously estimated. These planets all orbit stars that have stellar companions within about 1,700 astronomical units. For 43 of the 50 planets, previous reports of their sizes did not take into account the contribution of light from a second star. That means a revision to their reported sizes is necessary.
In most cases, the change to the planets' reported sizes would be small. Previous research showed that 24 of the 50 planets orbit the bigger, brighter star in a binary pair. Moreover, Furlan and Howell determined that 11 of these planets would be too large to be planets if they orbited the fainter companion star. So, for 35 of the 50 planets, the published sizes will not change substantially.
But for 15 of the planets, they could not determine whether they orbit the fainter or the brighter star in a binary pair. For five of the 15 planets, the stars in question are of roughly equal brightness, so their densities will decrease substantially regardless of which star they orbit… »

Jovian





Number of posts

: 526


Location

: France


Registration date :

2011-09-09



Is there a list of the 219 new planet candidates?
Also I'm a bit concerned about some of the planetary radii being reported in the newest update to the KOI catalogue -- some of the planets have reported radii above that of the Sun.

_________________
Caps Lock: Cruise control for 'Cool'!
Admin





Number of posts

: 3483


Location

: Earth


Registration date :

2008-04-06



Teachey, Kipping & Schmitt "HEK VI: On the Dearth of Galilean Analogs in Kepler and the Exomoon Candidate Kepler-1625b I"
https://arxiv.org/abs/1707.08563

The occurrence rate of Galilean-analogs appears to be less than 0.38 to 95% confidence. The case of Kepler-1625 would be a ~Neptune-size satellite orbiting a 10 Jupiter-mass planet. They note that they are cautious about the reality of this system but have secured Hubble Space Telescope observations for the October 2017 transit.
Also worth reading this blogpost on Scientific American by Alex Teachey: apparently someone was going to do a media release based on the Hubble proposal which made them decide to publish Kepler-1625 before actually doing the Hubble observations.

They consider the population statistics to be the more important and solid result (David Kipping's Twitter feed).
Possible comets around the F2V star KIC 3542116, plus a similarly-shaped transit around KIC 11084727, also an F2V.

Rappaport et al. "Likely Transiting Exocomets Detected by Kepler"
https://arxiv.org/abs/1708.06069

Seem to be better candidates for comets than the infamous Boyajian's Star.
Page 19 of 19 •

1 ... 11 ... 17, 18, 19
---
Permissions in this forum:
You
cannot
reply to topics in this forum